A Buying Guide to Best Flavoured Pod Vapes of 2020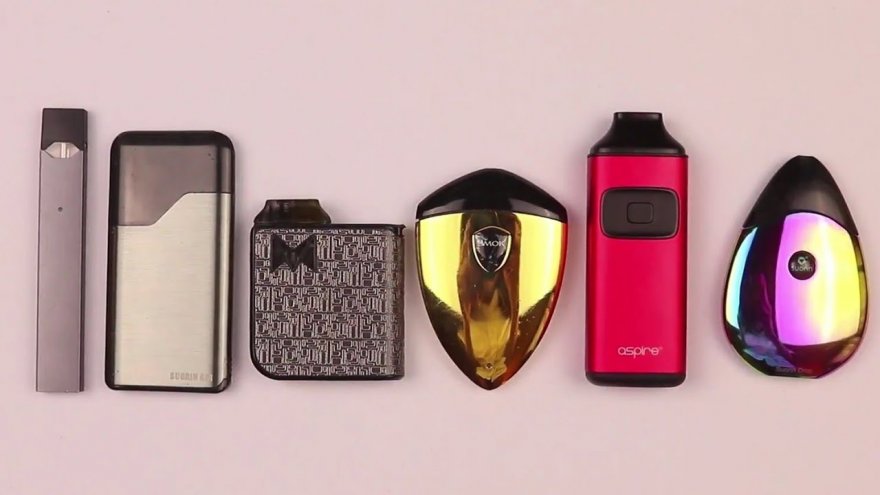 A Buying Guide to Best Flavoured Pod Vapes of 2020
During the past few years, pod kits have become popular among the smokers' community. The on-the-go nature of these vaping devices is something that has somehow revolutionized the concept of smoking.
Gone are the days when vape mods and tanks were the only options available in the market. Now you can find best flavoured pod vapes in countless varieties. With long battery life and a portable body, more and more people are gravitating towards these modern vaping devices.
Vapers of this generation have high standards. They would only take the plunge of switching to a new device if it's better in terms of its discreetness and user-friendliness. With a pod vape system, you can get all of these features – plus, you would also have a diverse range of pod designs and shapes at your disposal.
Because of the major demand for new vape models, the market is flooded with new devices every month. It can be a blessing as well as a curse. You might find it difficult to make an appropriate choice according to your vape-related needs. To make it easier for you to make the right buying decision, we have put together a list of the best flavoured pod vapes OD in the market right now.
What are Pod Vape Kits?
A vape pod kit is a compact smoking device that is more powerful than a typical e-cigarette. But they aren't as featured-packed compared to other full-sized vaporizer products in the market.
With a battery range between 150 mAh and 2000 mAh, these devices don't require to be turned on with any external power button. All you got to do is inhale in the vapors from the mouthpiece. This way you get to enjoy a similar experience like that of a cigarette.
These vape kits provide a hassle-free experience of fulfilling your nicotine need without any stressful setup. Once you insert the pod into the battery slot, you can instantly enjoy tasting your favorite e-liquid flavor.
With pod kits, you can either purchase a prefilled or a refillable pod. The former comes pre-filled with e-liquid so that you don't have to fill up the pod manually. If you are planning to switch to more advanced vape systems, then you might want to first get the hang of operating a refillable pod vape.
Best Flavoured Pod Vapes
Below we go through some of the best vape kits that you can find in 2020.
Each product has its pros and cons. It all comes down to what you want out of a vape pod system. By comparing the features and setbacks of the items listed below, you would be able to make an informed buying decision.
SMOK Novo 2
Any list of vape kits wouldn't be complete if we don't mention the top-notch product SMOK in it. SMOK offers specialized vaping devices according to the needs and requirements of each type of vaper.
With an 800mAh battery, the Novo 2 would prove to be a long-lasting device for most vapers out there. Its wattage range is between 6W to 25W, which would provide the device with a consistent power supply.
This pod vape model contains a new groove around its battery that wasn't present in its older models. You would be able to draw in air from the coil without having to deal with condensation issues. Some users have reported that weren't able to keep track of the e-liquid because the viewing window is too small. But that isn't a big issue, as you can easily pop out the pod to inspect it.
Vaporesso Degree
A highly robust kit that also has a nice overall exterior finish.
It gives you the convenience of re-filling pods with e-liquid flavors of your choice and taste. Powered by a large 950mAh internal battery, you get a decent wattage to power the device in a stable manner.  
The refill slot is exposed on top of the device. This means that you can easily keep track of your vape juice at all times. It also means that it would be easier for you to pour in the e-liquid without any spillage. It has a built-in warning system that gives an indication whenever you run on low on e-liquid.
alt. Pod Vape Kit
alt. vape is a compact closed-system vaporizer device that is manufactured in New Zealand.
If you are deciding to quit smoking cigarettes, then this is the best product for you. With its sleek body and stylish design, you would be able to satisfy your nicotine discreetly.
When you purchase an alt vape kit, you will get a battery, 40mg of e-liquid, a charging wire, and an instruction manual. You just have to insert the pod into the battery to get it started. It is designed for one-time use, which means that you would have to replace the pod daily. 
You can expect high standard quality, as each alt. device goes through electrical testing before being packaged. This ensures that the users can use the pod vape devices knowing it will be reliable.
Vapo Haiz Pod Vape Kit
Ultra compact, sleek and sophisticated, the Vapo Haiz prefilled pod kit is a great choice for people who want top-notch airflow. Plus, it also comes in different flavors and can produce decent vapors.
With a generous 500mAh battery, you would be able to enjoy a single vaping session without having to recharge. Surprisingly, it produces great flavor for its size – which many first-time users might doubt. It comes with a micro-USB cable and a 2ml prefilled e-liquid.
These pod vape kits are available in six flavors, which include mango and watermelon, among others. You can either opt for 0% or 3% nicotine strength depending upon your nicotine requirements.
RELX Infinity Vape Pod
The RELX infinity is the latest addition to the RELX line up this year. With new product design, it is turning out to be a highly sought after vape pod among novice and experienced vapers.
As its name suggests, the company claims to deliver infinite taste, utility, and user-friendliness. The kit is packed with basic accessories, such as 1.9ml prefilled e-liquid, 380mAh battery, and fast charging cable. It is a lightweight item that you can easily insert in your pocket.
It has a battery indicator that turns on every time you inhale the vapors. This way, you can always keep track of your battery backup when you are outside your house. You can expect rich vapor production from this compact vape pod device.
Vuse ePod
The vuse epod is an ultra-portable and lightweight prefilled pod vape kit , which provides the users an on-the-go vaping experience wherever they are. What we love the most about the Vuse ePod is its ergonomic body and stealthy appearance. It is designed to deliver bold flavors in each puff with a decent volume of vapour output. The VUSE epod comes in a wide range of nicotine strengths, such as 0%, 1.6%, and 5%.
Stratus Pod
The stratus pods are highly user-friendly vaping devices that are made for people that are looking for minimally invasive alternatives.
It is a no-fuss kit that delivers superior clouds despite its compact and sleek shape. The product comes with the most realistic tobacco flavors that provide a velvety-smooth smoking experience.
Conclusion
Yes, there's a lot to choose from. Pod vape systems are great but the key to any satisfying vaping experience is purchasing a suitable device according to your needs.
There's a pod vape for each type of vaper and we hope you find the right Pod Vape for you soon.